Introductory Course
American Style Social Dance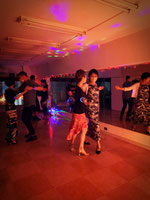 Introductory Course is designed to introdue you to the most popular Latin & Ballroom Dances peple dance!
In this course, you will learn basic steps in a range of dances, including Foxtrot, Swing, Tango, Rumba, Salsa, Chachacha, Waltz, and Merengue in four weeks.
You can start any week!
Lesson Fee: 2,000yen/lesson
Intro Course ticket (8,000yen for 4 lessons)is also available.  With this ticket, you will get 500yen discount when you proceed to the next level.
Trial Lesson is also 2,000yen.
Place: JSDC Shibuya Private Studio MAP
Day & Time: Monday 7pm
                    Saturday 12noon
Please Click here for Lesson Calendar
Other Introductory Classes
The following programs (classes) also have introductry level.
Please click here for Group Class Schedule.